Angelina Jolie Voight (born June 4, 1975) is an American film actress widely praised for her beauty, acting ability and Good will work throughout the world. She made her acting debut in one of her father's movies "Lookin' to Get Out" but her breakout role was probably "Gia", the movie chronicling the life and tragic Death of one of the world's first supermodels. Since, Angelina has established herself as one of the best known and highest paid actresses in the world, including the films "Girl, Interrupted", "Lara Croft: Tomb Raider" and "Mr. & Mrs. Smith." She has been married to actors Jonny Lee Miller and Billy Bob Thornton but is currently in a high profile relationship with another actor, Brad Pitt. She has six children, half of which are adopted, whom she has commemorated with tattoos.Angelina Jolie is probably one of the most well known tattoo enthusiasts in the celebrity world. She has tattoos in various styles all over her body. Between her Shoulder blades, she has Gothic letter tattoo that says "Know Your Rights", the title and song of her favorite Band. On her left Shoulder blade is a Buddhist incantation she had tattooed in Bangkok. Although she got the tattoo in Thailand, it is written in Khmer, the language of Cambodia, which where her oldest son Maddox was born. The incantation is supposed to protect her and Maddox from bad Luck. It translates to: "May your enemies run far away from you. If you acquire riches, may they remain yours always. Your beauty will be that of Apsara. Wherever you may go, many will attend, serve and protect you, surrounding you on all sides."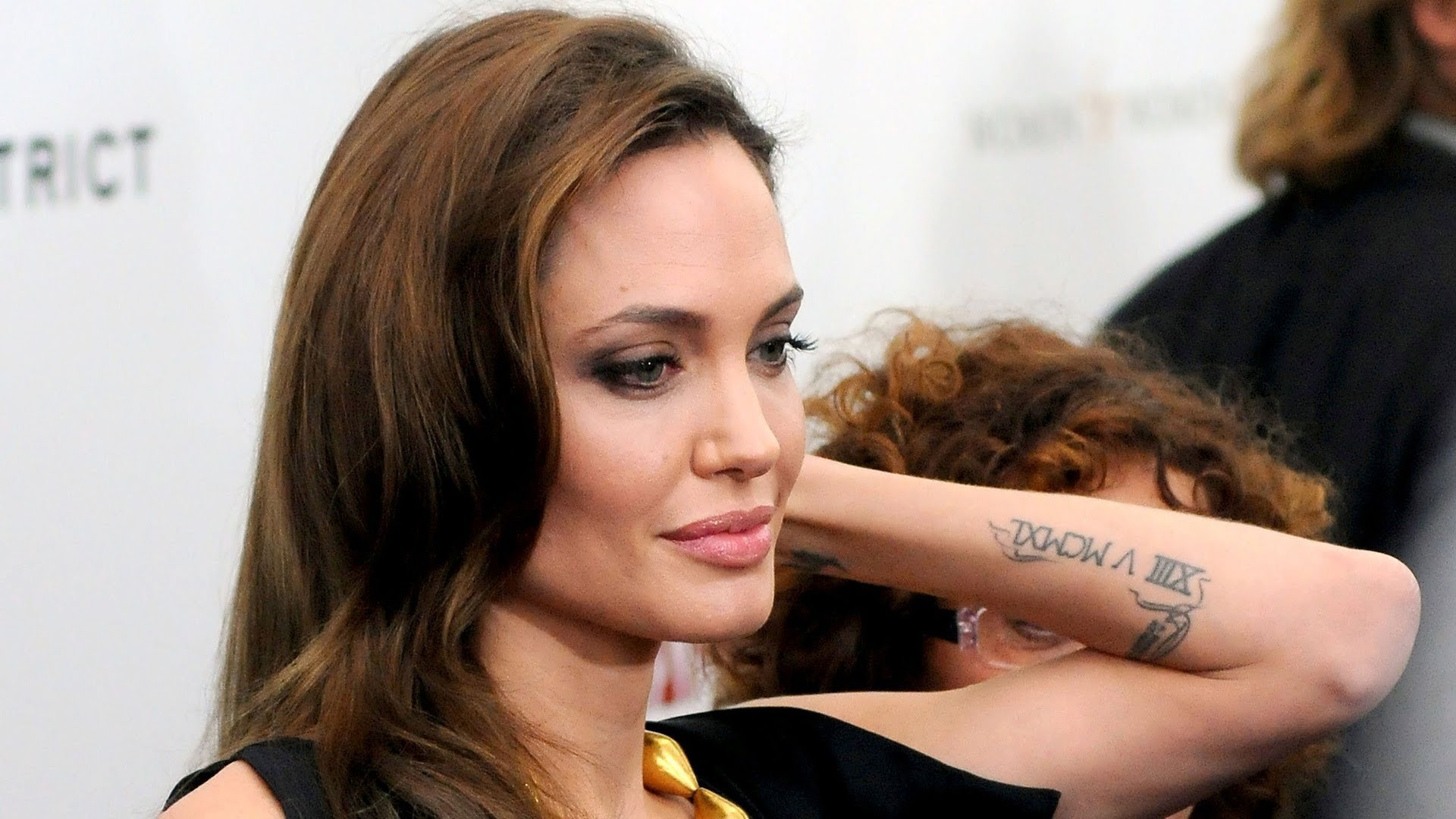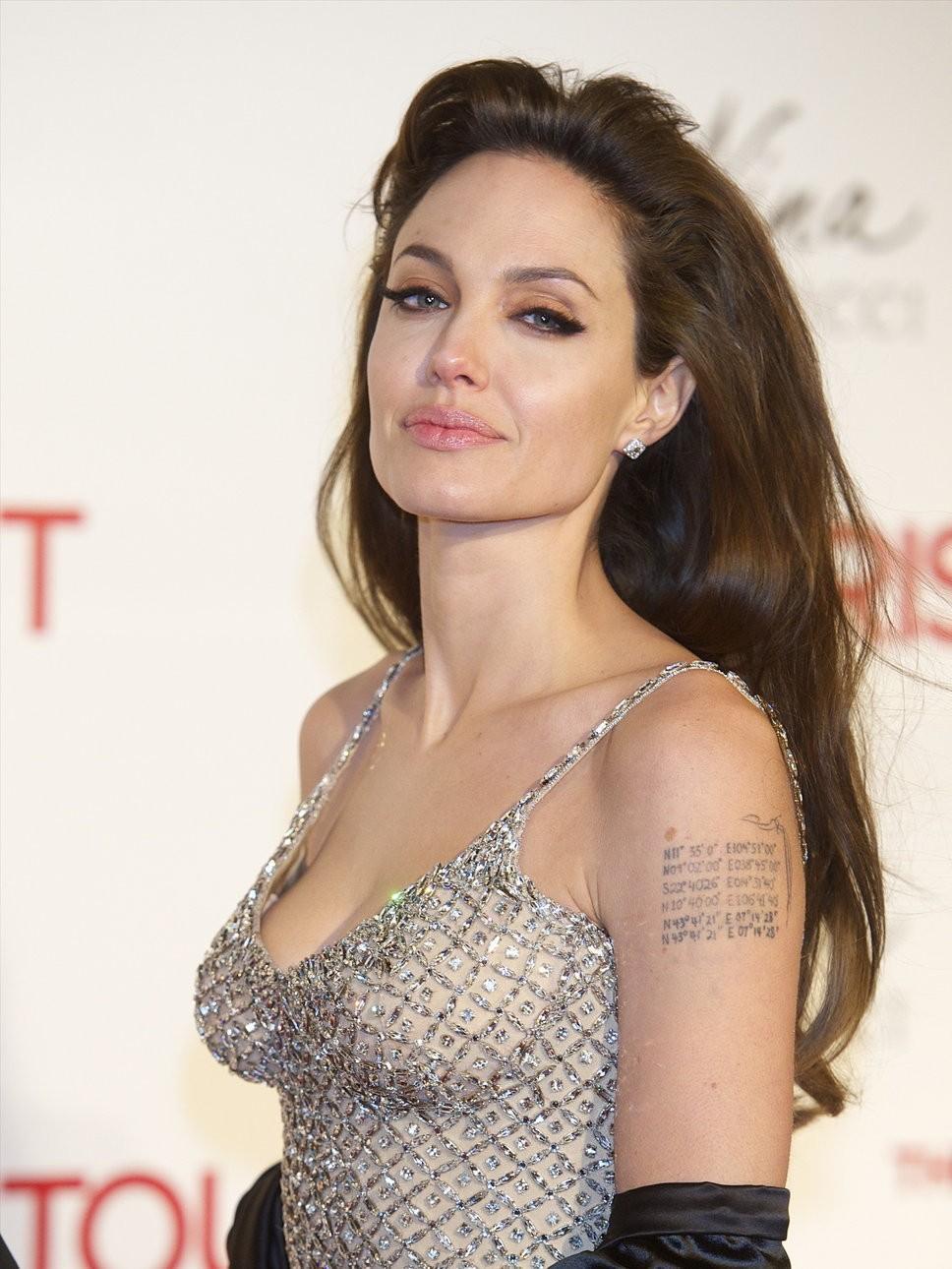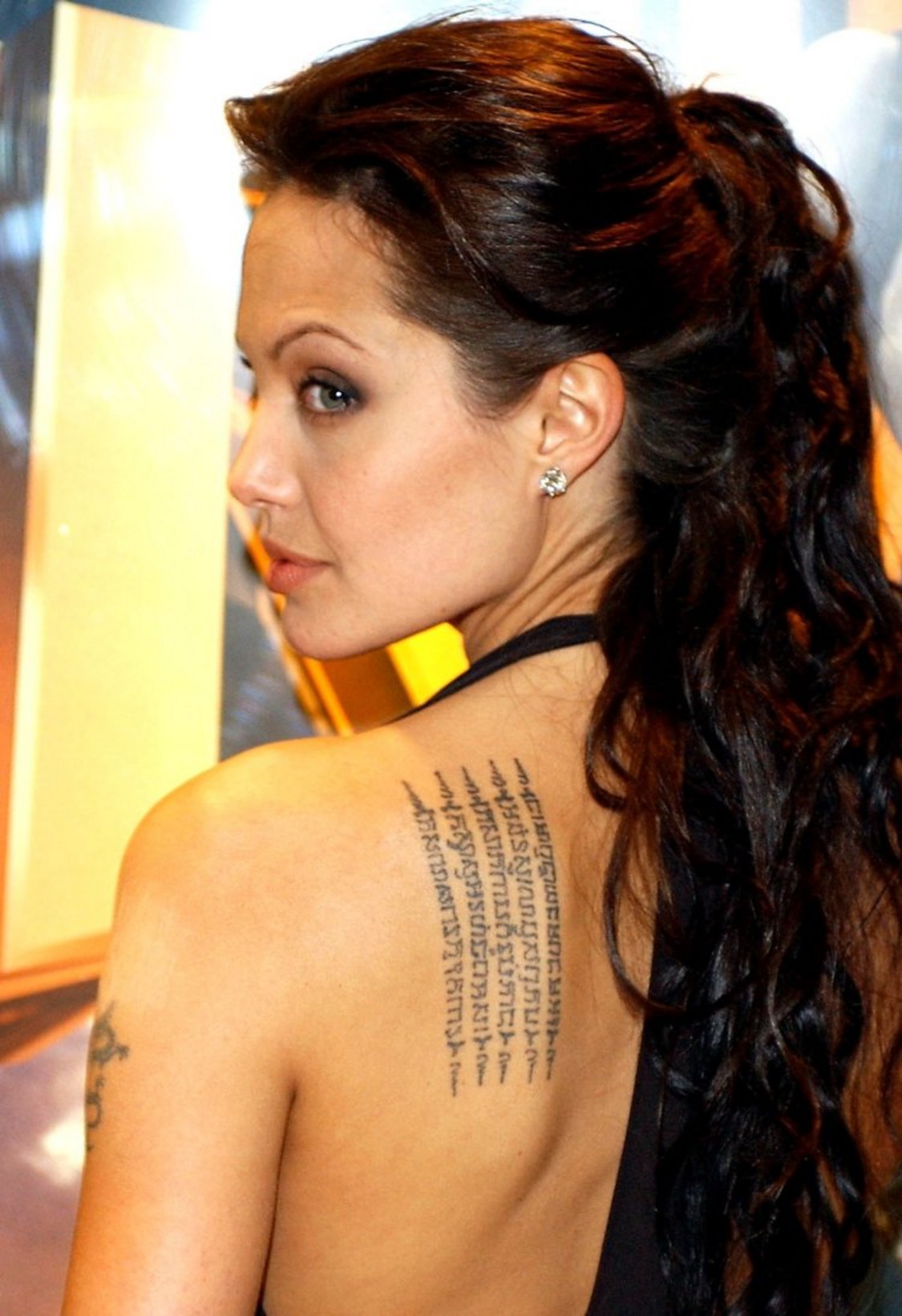 On Angelina's right Arm, she has an Arabic script tattoo that means "determination." The tattoo on the inside of Angelina's left Arm is the Roman numeral 13 (XIII) and she had it done because she doesn't believe in superstitions. Later she added V MCMXL to the previous tattoo. 13 May 1940 is the date Winston Churchill gave a famous speech in which he said "I have nothing to offer but Blood, toil, tears and sweat." Another tattoo on Angelina's left Arm is from the mouth of Tennessee Williams "A prayer for the wild atHeart, kept in cages." On her Lower belly, Angelina has a large block Cross tattoo, done to cover a Dragon with blue tongue. Next to it are the Words in Latin "Quod me nutrit me destruit" which translate "What nourishes me, destroys me."
On Angelina's left wrist, she has rune style tattoo of the letter "H". It was originally in Honor of her ex-boyfriend Timothy Hutton, but she kept it after the breakup and says that it now reminds her of her brother, James Haven. Angelina has tattooed the longitude and latitudes of the locations where each of her children were born:

N11 33' 00" E104 51' 00" for Maddox in Cambodia

N09 02' 00" E038 45' 00" for Zahara in Ethiopia

S22 40' 26" E014 31' 40" for Shiloh Nouvel in Namibia

N10 46' 00" E106 41' 40" for Pax Thien in Vietnam

N45 41' 21" E07 14' 28" for Vivienne Marcheline in Nice

N45 41' 21" E07 14' 28" for Knox Leon in Nice

Angelina also has a 12 inch by 8 inch Bengal Tiger tattoo on her Lower Back to celebrate her Cambodian citizenship. The Tiger tattoo was done with a traditional manual needle and blessed with an ancient hymn in Thailand by the same artist who did her Buddhist incantation tattoo. Angelina has an unknown tattoo in her pubic area referring to Billy Bob Thornton, a former husband; although it has probably been removed. She also has the letter M tattooed in the palm of her hand, a remembrance of her mother, Marcheleine Bertrand, who passed away recently.

While Angelina is obviously a true Lover of tattoos, she's not at all shy about covering or removing tattoos that no longer have use for her. Her first ever tattoo has been removed and replaced by her Khmer incantation. It was a Japanese Symbol for "death", to remind her to live. Her Arabic tattoo on her right Arm is covering an abstract linetattoo that she and ex-husband Billy Bob Thornton created. She also had an Asian Dragon tattoo with his Name above it that was removed. During the removal process, shetold the press "I'll never be stupid enough to have a man's Name tattooed on me again.' One night in Amsterdam, Angelina was very drunk and ended up with a black Dragon tattoo with a blue tongue on her Lower stomach. She has it covered by the large black Cross. She had a tattoo on her right Arm, the Japanese Symbol for "courage" that her ex-husband Jonny Lee Miller also had. She had it removed because it didn't feel like her own. She also had three tattoos on her Lower Back removed and covered over, including a blue window that Symbolized her habit of Staring out windows, wishing she was somewhere else. She had it covered because she feels like she doesn't do that anymore now that she's Happy where she is. She also had a Tribal design and a Tribal Dragon, all of which have been covered by the large Bengal Tiger tattoo on her Lowerback.